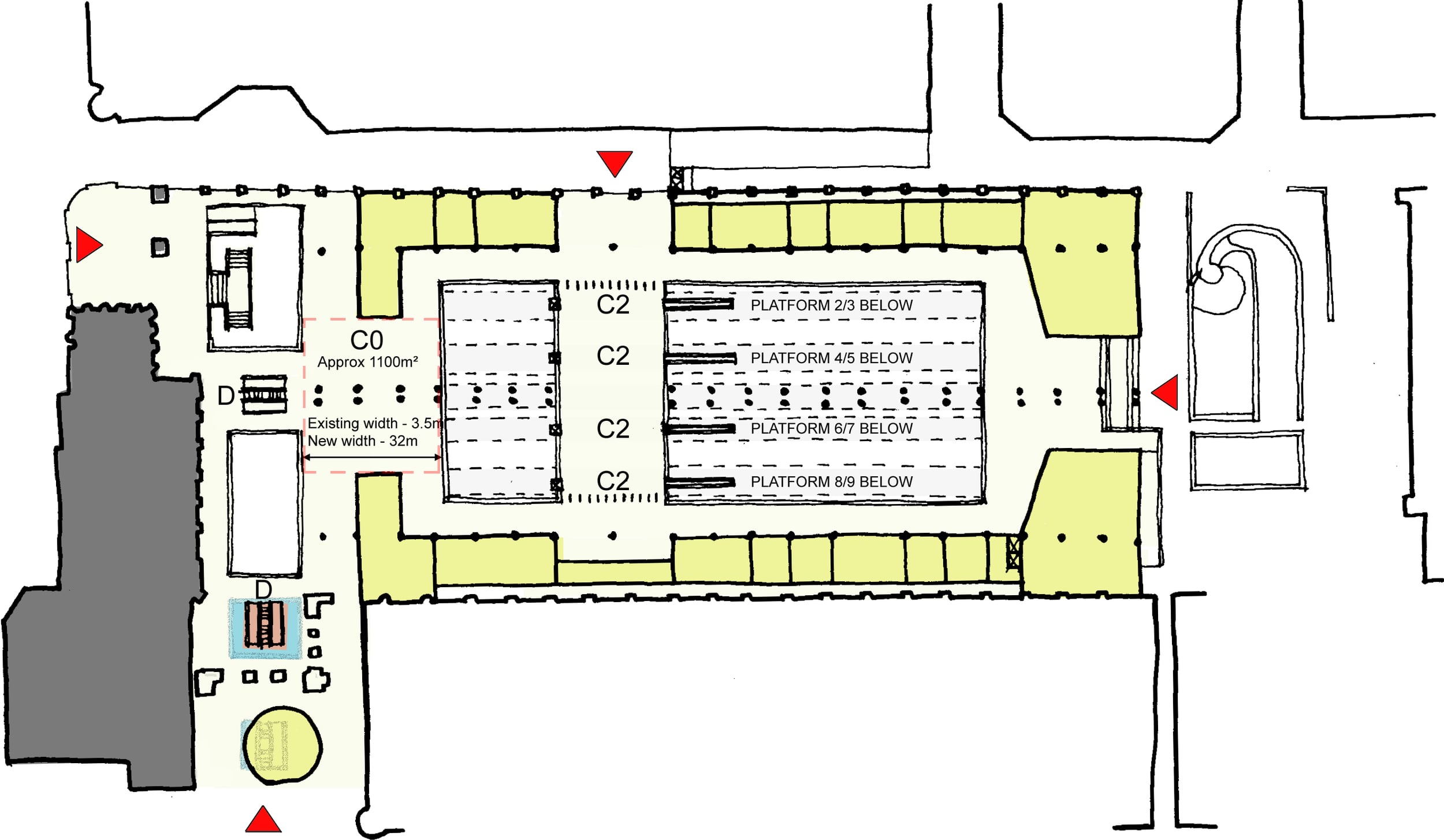 Paddington Station: Royal Mail Group, Stanhope
City Architecture Office was appointed to lead the station design of a major enhancement to the Bakerloo tickethall at Paddington Station. The proposal forms part of a larger Royal Mail Group development of the 1 London Street site led by Michael Aukett Associates.

Consulting with stakeholders, London Underground, Network Rail and Crossrail; City Architecture Office established an outline design for the ticket hall. Proposals achieve LU's long term aims for future capacity and step-free access at the station and allow future development of the Royal Mail Group site.
Working with MACE & Waterman's engineers, City Architecture Office is helping develop a construction methodology on this severely constrained site. A key requirement for London Underground is that the station is to remain operational throughout the construction.

City Architecture Office has completed static analysis of the passenger demand figures and defined station planning requirements compliant with London Underground Standards.
Edinburgh Tram: TIE, Parsons Brinckerhoff
Edinburgh Tram is a major transport initiative that offers a whole new transport choice to the people of Edinburgh.

Working within TIE as part of the Parsons Brinckerhoff project team City Architecture Office is providing 3D visualisations for consultation throughout the Edinburgh Tram planning application process. City Architecture Office is currently working on the first phase running between Edinburgh Airport and Leith, particularly the impact on Edinburgh's world heritage site.

City Architecture Office is an approved supplier to Parsons Brinckerhoff.
London Underground: Cooling the Tube
Transport for London is investing to address the issue of heat on the Tube through the Cooling the Tube Programme. Getting heat out of the London Underground network is a huge engineering challenge. TfL has established a dedicated programme team to provide solutions to prevent temperatures on the deepest parts of the network rising to unacceptable levels.

City Architecture Office Director, Alun Hughes is working in the role of lead architect for the Cooling the Tube Programme. The scope of work includes supporting design development, establishing architectural specifications as well as the technical assurance of works.

Key design issues are the sensitive integration of proposals into the existing infrastructure, compliance to London Underground engineering standards and ensuring that design quality meets the aspiration for a 'world class' Tube.

City Architecture Office is an approved supplier to Parsons Brinckerhoff and a registered Achilles Link Up supplier for the Rail Industry.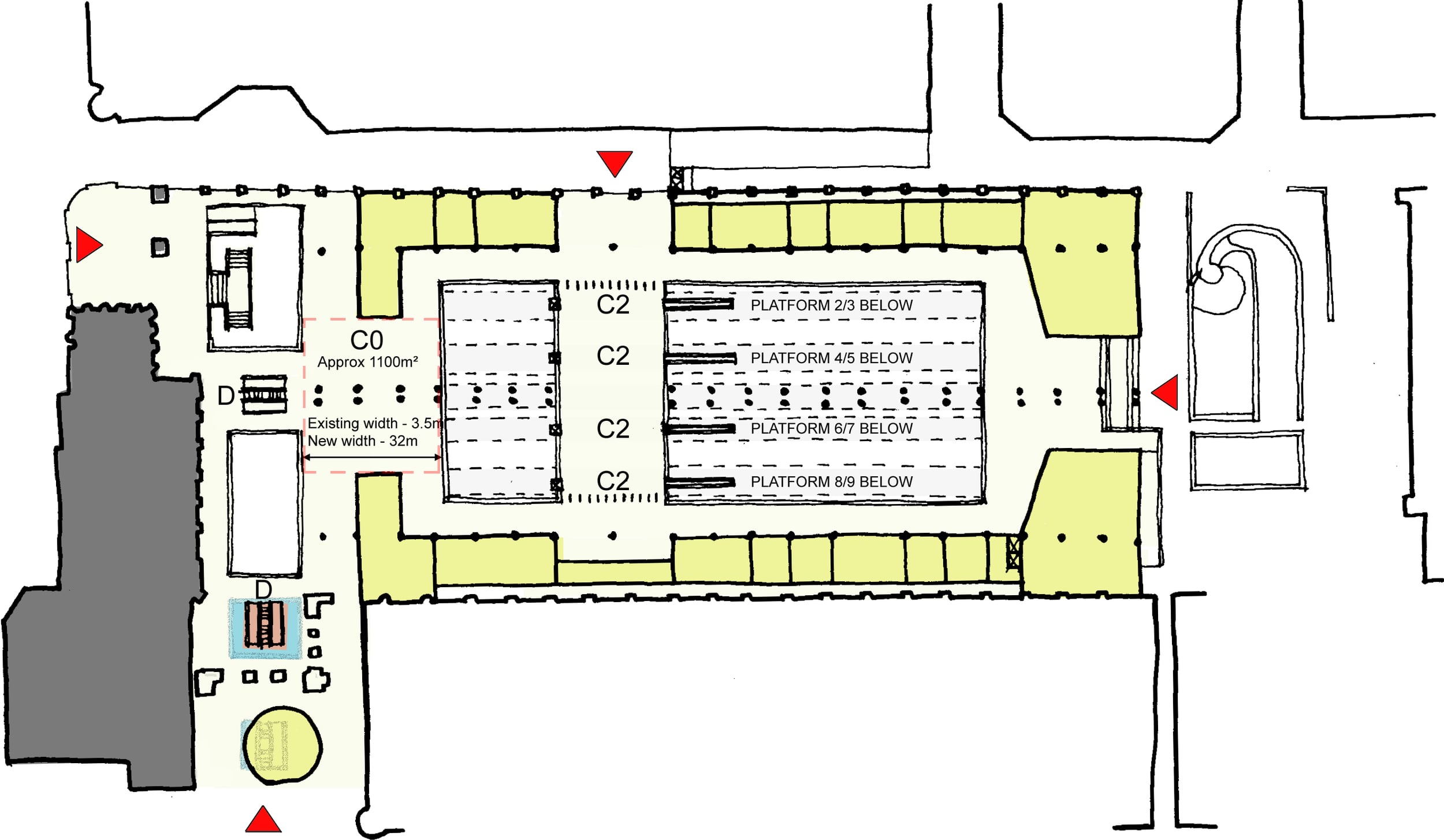 Liverpool Street Station: DMP, British Land
City Architecture Office have completed a concept study for British Land and the Day Management Partnership into the potential to improve the passenger experience and increase capacity at Liverpool Street Station.

Working as part of a multidisciplinary team which included Steer Davies Gleave, MACE, Montagu Evans and Benoys, City Architecture Office undertook analysis of future developments, public space proposals and operational issues affecting the Network Rail Station.

The conclusions of the study have been presented to Network Rail as a means to enhance the operational capacity of the station and provide additional retail space within the listed structure.